The Chanel Fall/Winter 2023 collection unveiled an array of exquisite pieces, among which the Chanel 23B Flap Phone Holder with chain stood out as one of our personal favorites. It is a must-have for fashion enthusiasts who value both connectivity and style, allowing them to stay connected while keeping their hands free.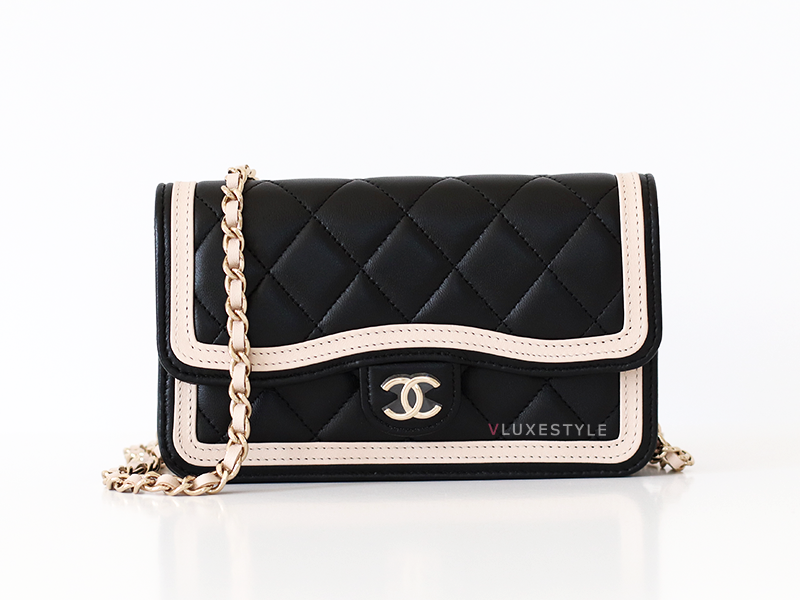 CHANEL 23B Flap Phone Holder Black and Beige Quilted Lambskin Light Gold Hardware
CHANEL 23B Black and Beige Flap Phone Holder with Chain, Style number: AP3559 B14110 NQ921
One of the standout features of this phone holder is its design. Available in two variations, the Chanel iconic 2-tone black quilted with elegant beige trimming, as well as an all-black version with a patent trimming, both options exude sophistication and timeless style.
Dimensions: 6.75L x 1.50W x 4H, Strap drop: 22 in
The Chanel 23B flap phone holder is designed with a flap magnetic closure for secure placement of your phone. Inside, you'll find fabric lining, a card slot, and a zipper compartment for organization. It features interwoven gold chain link for a touch of sophistication. The luxurious quilted lambskin leather and prominent Chanel logo on the front add a touch of luxury to the design. This one currently retails in the US for $2875 (tax excluded).
It features a magnetic closure
It features a fabric lining, card slot and zipper compartment
The 23B flap phone holder by Chanel is designed to fit most smartphones, including the iPhone 14 Pro Max. Its dimensions of 6.75L x 1.50W x 4H and a strap drop of 22 inches ensure that your phone effortlessly fits along with your small essentials.
The slim design of this flap phone holder offers versatile styling options. You can wear it over the shoulder or crossbody. Additionally, you can double it up as a shoulder bag or a small clutch. It fits essentials like an ID or passport, lipstick, keys, a flat card holder, and other small items. Adding elegance to your overall look, it complements any outfit and is perfect for any occasion, whether it be a casual afternoon, an elegant evening look, or simply running errands.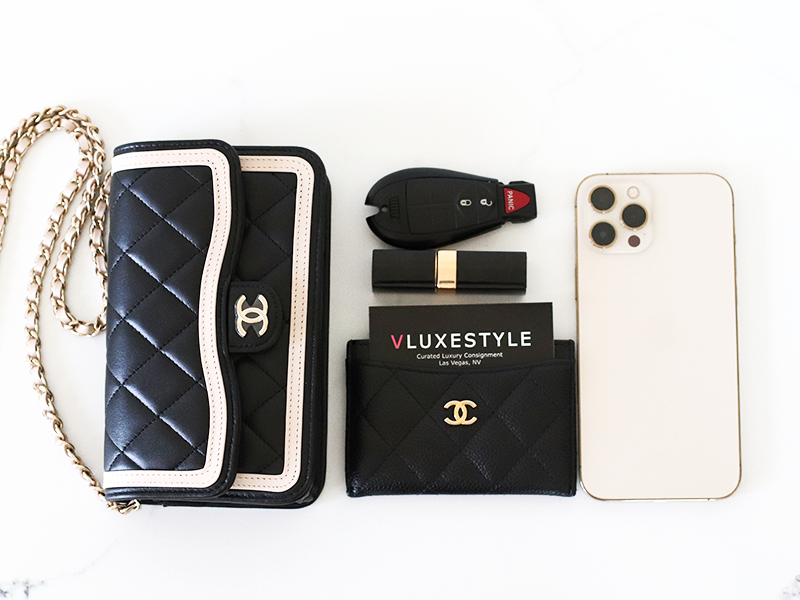 The Chanel 23B Flap Phone Holder with chain is designed to accommodate most smartphones and small essentials.
If you're looking for a statement piece, the Chanel 23B Flap Phone Holder with chain is the perfect choice, It's chic, stylish, and keeps your phone secure by your side. Explore our curated collection of Chanel items.