Priced at $432,000, Hermès' Himalayan crocodile Birkin bag is regarded as the most expensive Birkin bag ever sold, according to Vogue.com. With average retail prices between $8,000 and $11,000, the Birkin, Constance, and Kelly bags reign as Hermès' most coveted styles. Yet the legendary brand also offers an array of more readily available options. While the initial trio falls into Hermès' "quota" category—in that customers can only purchase one or two bags within a limited range of time—"non-quota" styles are far more accessible. They've emerged as in-demand options for those waiting to acquire aspirational "quota bags." Here, we've compiled a guide to the best "starter" bags for neophyte Hermès connoisseurs.
Hermès Bolide
With a trapezoidal silhouette, the Bolide's zipper closure was inspired by Hermès CEO Emile-Maurice Hermès' visit to the United States. While touring Henry Ford's automotive factory, Hermès noticed a zipper on the fabric atop a car; after returning to France, he acquired a zipper patent and designed le sac pour l'auto. By 1923, that style evolved into the Bolide: Merging fashion and function, it features a rounded shape and removable shoulder strap. Its two versions include the Mou, crafted in soft leather for a slouchy shape, plus the sturdier Rigide.
Besides the Bolide Mini, styles include the Bolide 27, Bolide 31, Bolide 35 and Bolide 45. With an average retail price of $5800-$8850, the Bolide 45 functions as a travel bag; smaller iterations are designated for everyday use. Wear it as a shoulder or crossbody style, or simply carry it via the top handles.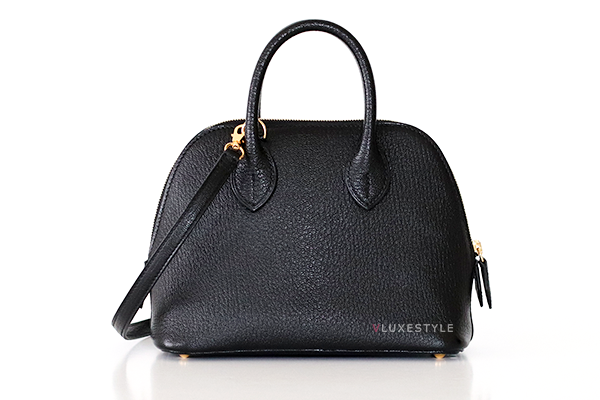 Hermès Mini Bolide 1923 Black Chevre Mysore Gold Hardware
Hermès Evelyne
Designed to carry equestrian grooming tools, Hermès' Evelyne bag features H-shaped perforations on one side; the openings enabled air circulation for drying damp combs and brushes. Four iterations defined the Hermès Evelyne: Generation I, Generation II, Generation III and the Evelyne Sellier; today, only the Generation III and Sellier bags remain. With an adjustable strap and exterior pocket, Generation III embodies practicality. The Evelyne comes in four sizes: Evelyne TPM 16; Evelyne PM; Evelyne GM; and Evelyne TGM. Average retail prices range from $2050 to $4500, depending on size. Its functionality accommodates travel or everyday use.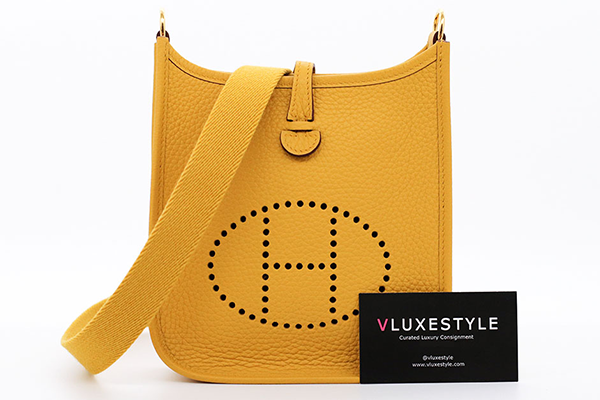 Hermès Evelyne 16 TPM Jaune Ambre Clemence Gold Hardware
Hermès Garden Party
Crafted in leather or canvas with leather accents, Hermès' Garden Party serves as a pragmatic tote bag. With snap closure hardware at the top, it features innovative clou de selle snap closures on either side; while transforming the shape of the bag, they also offer extra space. With myriad colors, Hermès' Garden Party comes in four sizes: 30; 36; 39; and Garden Party 49 Voyage. Thanks to ease of use and spacious capacity, it prevails as one of the House's most popular bags. With a lower price point (averaging at $2400) and long-term durability, it's intended for daily use.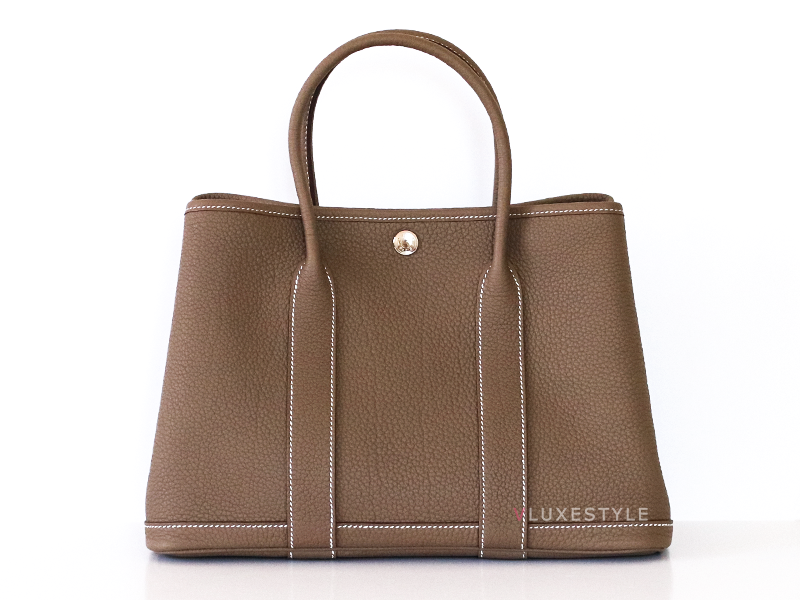 Hermès Geta Etoupe Chevre Mysore Palladium Hardware
Hermès Geta
A "casual cousin" of the Constance, Hermès' Geta bag was inspired by traditional Japanese wooden platform sandals. Crafted in Chevre leather, a pebblegrain texture infuses the structured silhouette with subtle dimensional detailing. An adjustable canvas shoulder strap brings versatility, in that it doubles as a shoulder or crossbody style. A magnetic H-shaped closure facilitates access to the interior, which comprises two small pockets in front and one pocket in back. And there's no need for metal feet: The Geta bag can stand up on its own via the "H" logo. Available in one size, its dimensions are 8.5" x 5.1" x 2." With an average retail price of $5950, this on-the-go style enhances travel or everyday wear.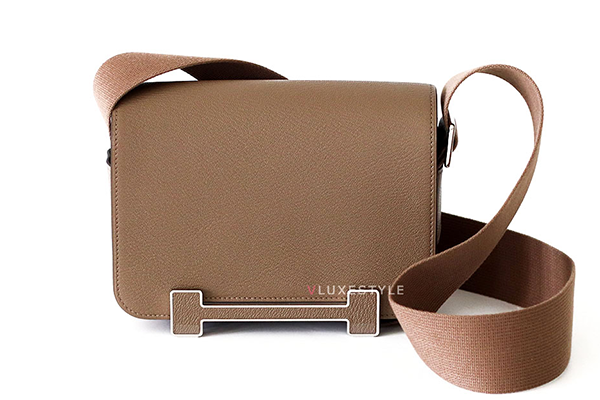 Hermès Geta Etoupe Chevre Mysore Palladium Hardware
Hermès In-the-Loop
Derived from the Picotin (minus the feet), Hermès In-the-Loop is a classic bucket bag crafted in Clemence leather with Swift calfskin handles placed on top to prevent slouching. Designed in vibrant hues or neutral tones, it's available in two sizes: 18cm × 19.5cm x 12cm and 23cm × H 25cm x D 15 cm. Depending on size, In-the-Loop's average retail prices range of $4500. An interior pocket adds practicality; adornment comes in the form of a Chain d'Ancre closure (gold-plated or palladium), plus Chain d'Ancre motifs on the handles and at the base. Understated in design, the smaller version serves as a casual day while the larger size transports daily essentials.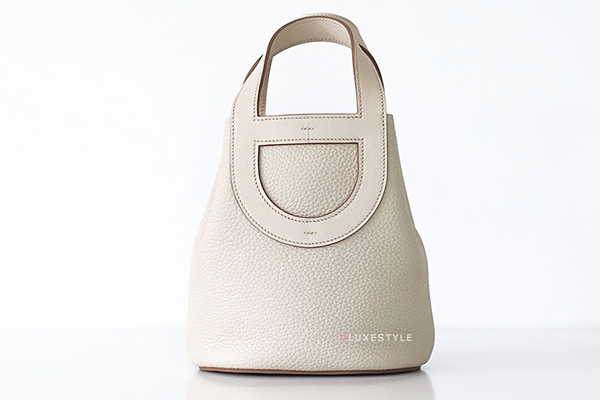 Hermès In the Loop 18 Beton Clemence Gold hardware
Hermès Jige
Perennially chic and pragmatic, Hermès' Jige is a sleek, envelope clutch. A wedding gift from Jean Guerrand, son-in-law of Hermès CEO Émile Hermès, to his future daughter-in-law, the Jige became available to the public in 1975. An H-shaped closure secures the top flap; its slim silhouette accommodates small daily essentials such as a smartphone, card holder and keys. Designed in myriad colors and leathers, the Jige comes in four sizes: Mini, PM, GM and Elan (the latter comes in 29 cm and 35 cm variations). While the Jige Elan 29 and 35 feature rectangular silhouettes, the Jige PM and GM are designed with square proportions. Hermès continues to sell the Jige Elan 29; the remaining sizes are available via the pre-loved market. Retailing for approximately $4050, the Jige Elan 29 translates from business meetings to cocktail parties.
Hermès Jige Elan 29 Clutch Swift Gold
Hermès Lindy
Hermès' Lindy bag focuses on flexibility and comfort: While causing the center of the bag to slouch, perpendicular handles let it rest naturally against the body. With outside pockets, double zipper closures on top and a lock closure, the Lindy bag's detachable shoulder strap brings practicality; when carried by the handles, it works as a tote bag; at the same time, it doubles as a shoulder bag.
Crafted in Clemence and Swift leathers, Hermès' Lindy bag comes in several sizes: Mini (which works as a crossbody style), 26, 30, 34 and 45. Retail prices span from $6650 to $8700. The folded design and relaxed aesthetic make the Lindy adaptable: Carry it as a style-conscious slouchy bag or a structured version filled with necessities. For travel, it's a go-to carry-on style that stows easily under seats.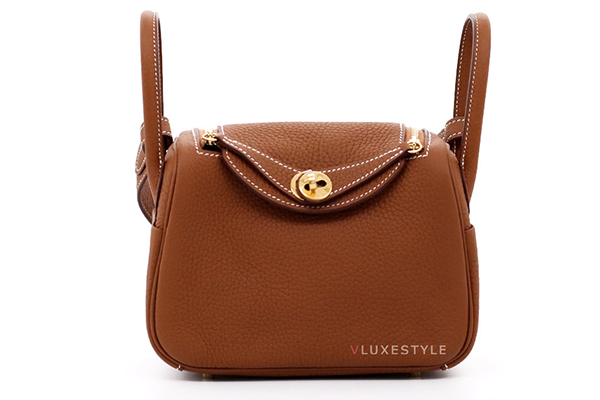 Hermès Mini Lindy Gold Clemence Gold Hardware
Hermès Picotin
Modeled on traditional horse feed bags, Hermès' Picotin reflects its equestrian origins. A bucket bag with a wide, rounded silhouette, it imparts a minimalist, functional aesthetic. In addition to its dual top handles, design details include a padlock, squared base, Hermès' signature embossing and classic clou (i.e., metal purse feet). Crafted in Clemence and Epsom leathers with a subtle pebblegrain texture, the Picotin also comes in canvas and felt. Rendered in four sizes (Micro, 18 cm, 22 cm & 26 cm), retail prices span from $3025 to $4825. An unlined interior makes the Picotin bag lightweight and casual in appearance—an ideal complement to busy lifestyles.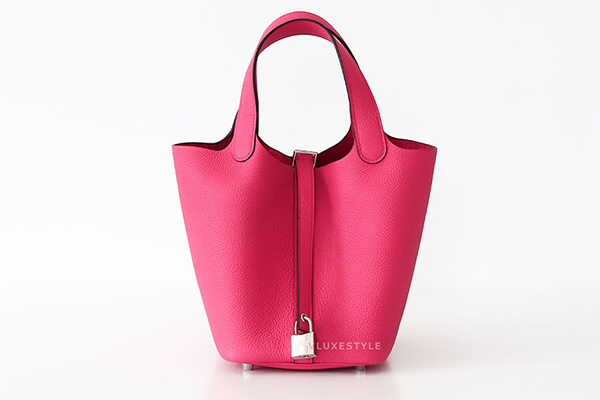 Hermès Picotin 18 Rose Shocking Palladium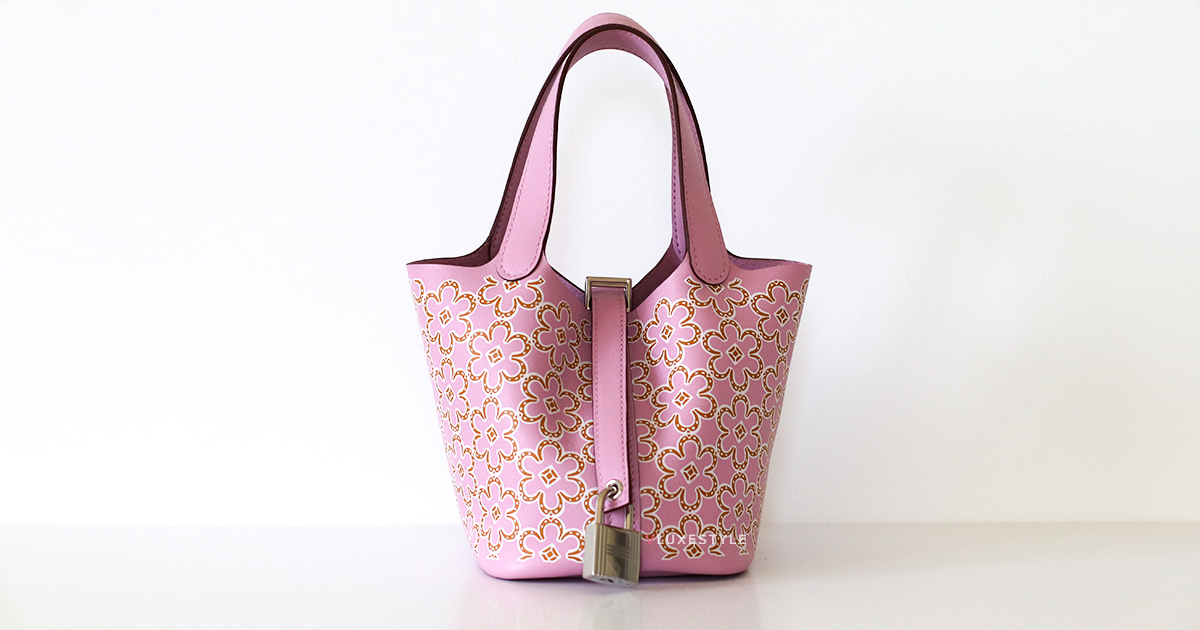 Hermès Micro Picotin Lucky Daisy Mauve Sylvestre Swift Palladium
Hermès Roulis
Reminiscent of the Constance but more understated, Hermès' Roulis evokes simple sophistication. With a square silhouette, it features an adjustable leather shoulder strap and clasp hardware; a style statement unto itself, the front flap offers convenience and ease.
Introduced in 2011, the Roulis is designed in an assortment of leathers and hardware. For functionality, its roomy interior houses a trio of compartments. Rendered in a diminutive 18 cm size and a larger 23 cm version, it retails from $7750 to $8550. The Roulis doubles as a crossbody or shoulder bag. With a blend of utility and comfort, it's a versatile option for day or evening.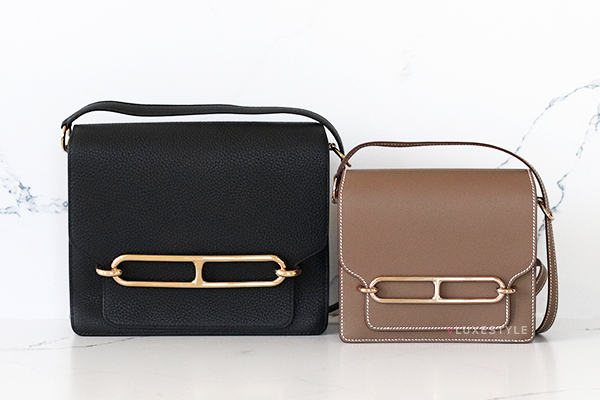 Hermès Roulis 23 Black Clemence Gold Hardware, Roulis 18 Etoupe Swift Gold Hardware
Hermès 24/24
A modern refresh of the archetypal Birkin and Kelly style, Hermès unveiled its 24/24 bag in 2018. While comparable in price to the aforementioned iconic styles (retail prices are $8800 and $10200), the 24/24 is far more accessible. Crafted in two leather combinations—Togo with Swift Calfskin or Clemence with Sombrero—the 24/24 is designed in three sizes. Its slouchy shape offers extra room for any "just in case" items, in addition to necessities. The 21 cm option doubles as a crossbody, and easily converts between day and evening styles. The 29 cm style stands out as a sophisticated, versatile day-to-night option. Equipped with an extra pocket in back, the roomier 35 cm version can accommodate a laptop; it's targeted to professionals for daily use, travel or a combination of both.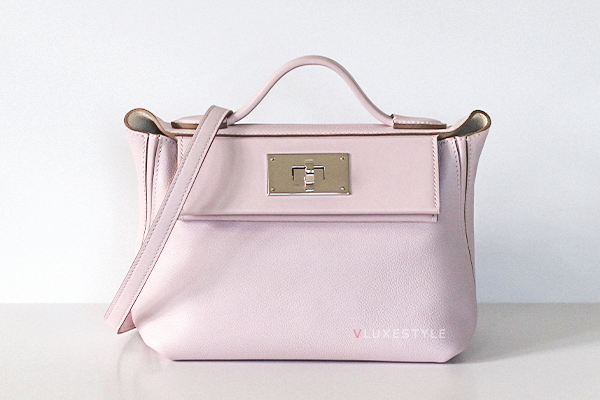 Hermès 24 24 21 Mini Evercolor Swift Mauve Pale with Palladium hardware
The Hermès Starter handbags collection is a must-have for any fashion enthusiast. Known for their exquisite craftsmanship and timeless designs, Hermès handbags are highly sought after in the fashion world. This collection offers a wide variety of stylish handbags to choose from, ensuring that you can find the perfect bag for any occasion. Whether you need a classic shoulder bag for everyday use, a chic crossbody for a night out, or a stylish clutch for a special event, the Hermès collection has something for everyone. Investing in a Hermès handbag not only elevates your style but also holds its value over time, making it a worthwhile addition to your wardrobe. Explore our collection today and elevate your wardrobe with a touch of luxury.