While all of Chanel's handbags convey iconic status, its iridescent, metallic, and pearlescent styles bring glamour to the next level. Synonymous with elegant evening and special-occasion looks, they also upgrade casual daytime outfits.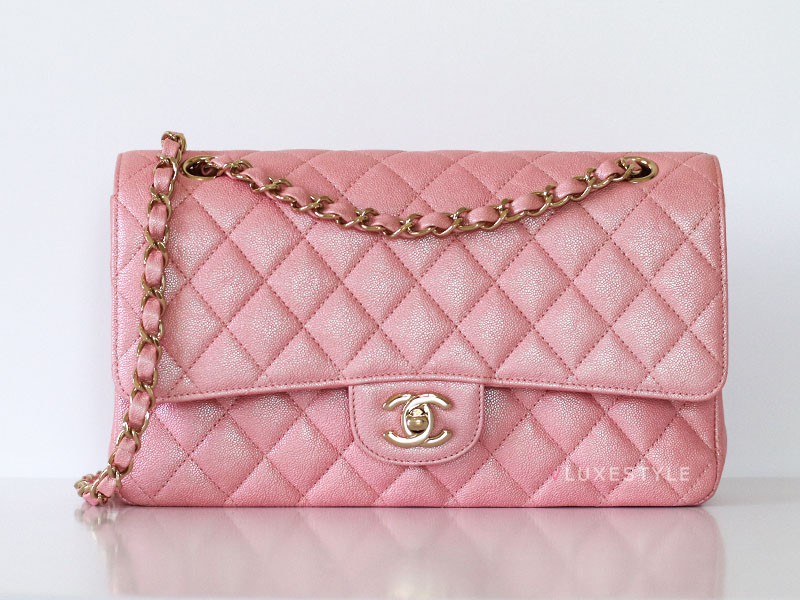 CHANEL Classic Medium Flap 19S Iridescent Pink Quilted Caviar Light Gold Hardware
IRIDESCENTS:
Appearing to change colors at different angles, Chanel's iridescent bags feature an array of colors. Along with its popular 22A iridescent emerald green and 19S iridescent blue, the 19S iridescent pink styles stand out as some of its most eye-catching creations. Chanel's classic black bags are always in fashion, but a subtle sheen enhances its iridescent black styles. And while Chanel's iridescent creations each year, its most sought-after styles sell out almost immediately. At VLuxeStyle, we offer a curated collection of the brand's most coveted pieces. Why not elevate your wardrobe with a shimmering finishing touch, courtesy of Chanel?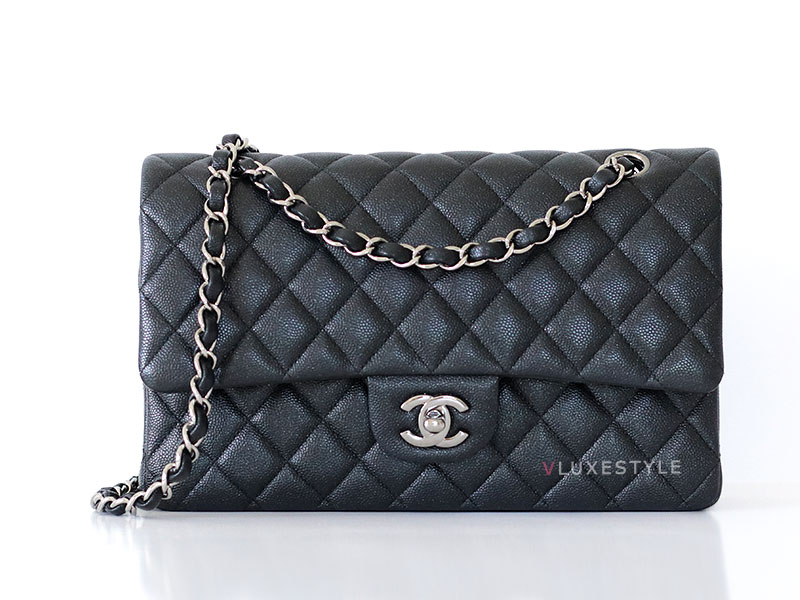 CHANEL Classic Medium Flap 18C Iridescent Black Quilted Caviar Gun Metal Hardware
Gradient hardware further complements iridescent coloring, while lighting also affects the appearance of iridescent palettes. Similarly, materials makes a difference: Chanel's iridescent bags are crafted in calfskin, lambskin, goatskin and caviar. In terms of materials, goatskin lends itself to a striking metallic finish. The effect is more dramatic than it's iridescent counterparts. Soft lambskin enhances the shine of specific hues, as caviar features higher pigmentation with an understated sheen.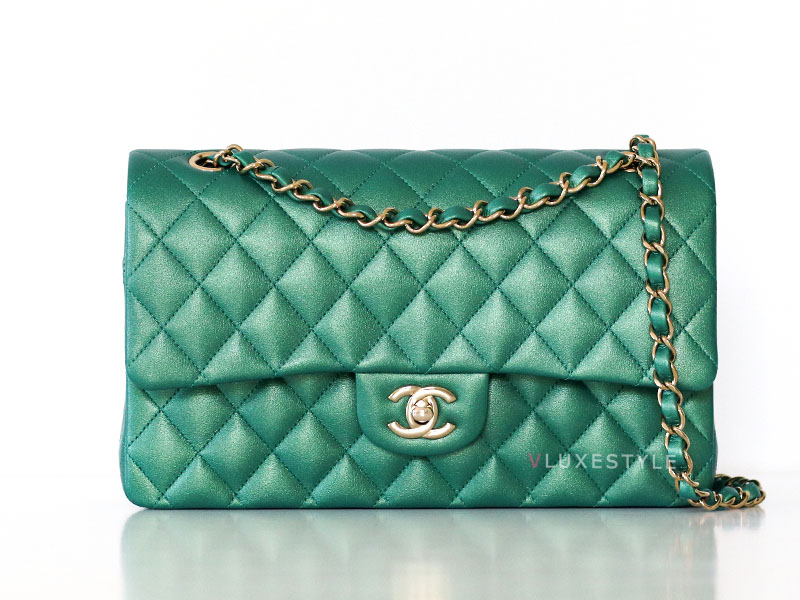 CHANEL Classic Medium Flap 22A Iridescent Emerald Quilted Lambskin Light Gold Hardware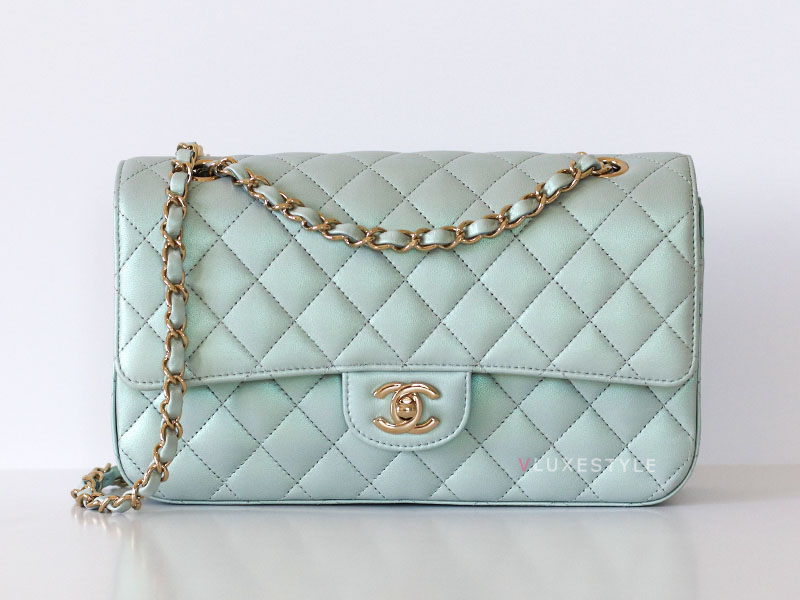 CHANEL Classic Medium Flap 19S Iridescent Blue Quilted Lambskin Light Gold Hardware
METALLICS
Rendered in silver, gold, and other alloys, iridescent metallic finishes bring a dramatic, mirror-like shine to Chanel's bags. Among our most-loved metallic looks glimmering in gold are the 21P Metallic Gold and heart-shaped 22S Metallic Gold. As another standout style, the Classic Flap 21K Silver Quilted Caviar features a sparkling silver finish. Since the finishes complement virtually any look, gold and silver handbags serve as neutrals with a sparkling twist. Moreover, metallic bags can complement daytime outfits (from business meetings to dinner dates) just as much as evening ensembles.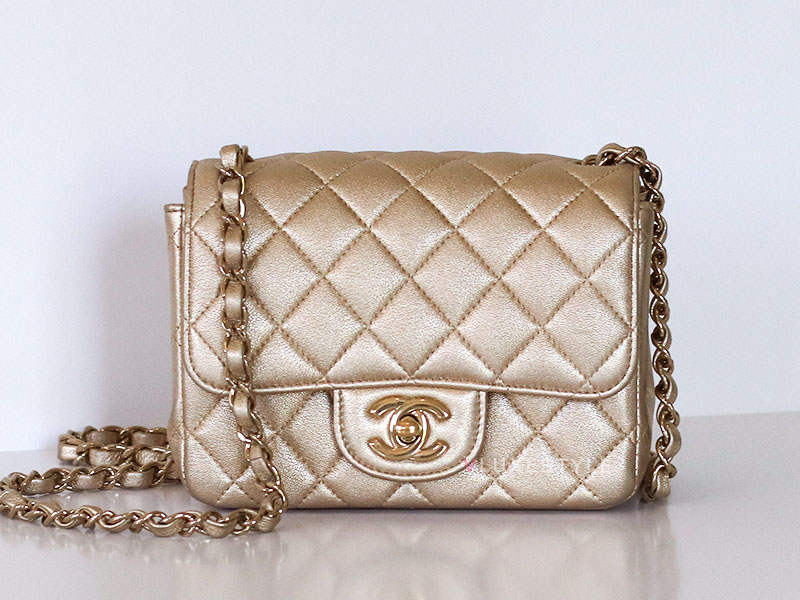 CHANEL Classic Mini Square Flap 21P Metallic Gold Quilted Lambskin Light Gold Hardware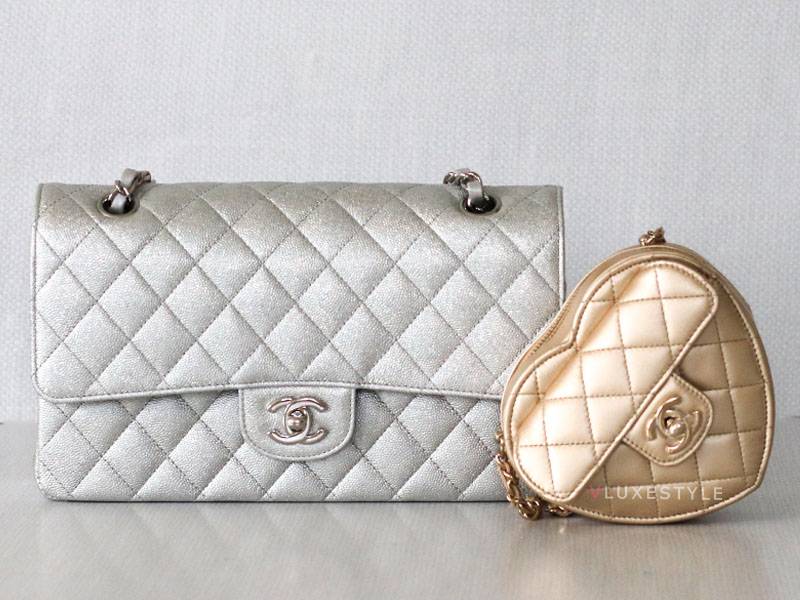 CHANEL Classic Medium 21K Silver Quilted Caviar Silver Hardware & 22S Metallic Gold Heart Bag Light Gold Hardware
PEARLESCENTS
More subtle than iridescent or metallic surfaces, Chanel's pearlescent bags reveal a shimmery luster reminiscent of Mother of Pearl. Several most-loved looks include the most coveted Chanel's 17B iridescent rose gold collection, 15C pearly and 18S iridescent pearly collection. While pearlescent, iridescent and metallic handbags make a glam statement at any time of year, they're truly style standouts for summer. Shop our favorite styles here.
CHANEL Classic Medium 17B Rose Gold Chevron Caviar Silver Hardware & Classic Mini Rectangular Emerald Quilted Caviar Light Gold Hardware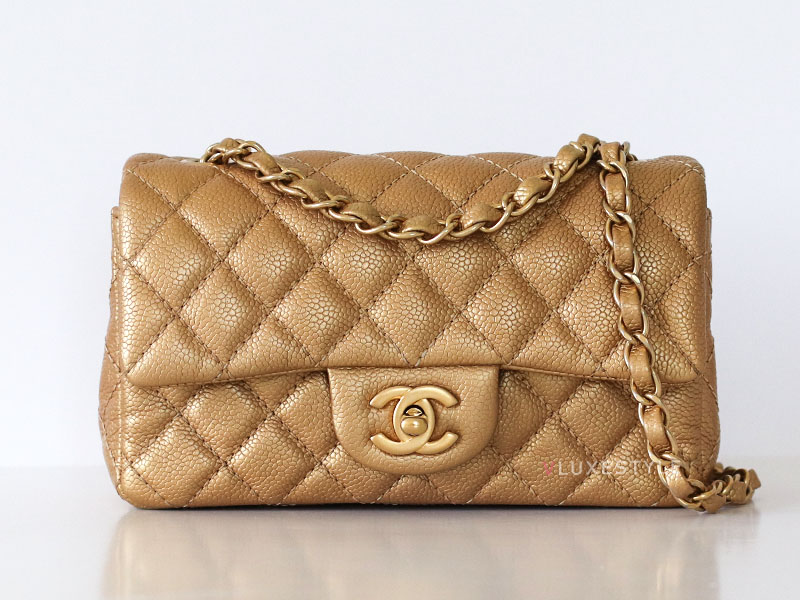 CHANEL Classic Mini Square Flap 15C Pearly Quilted Caviar Matte Gold Hardware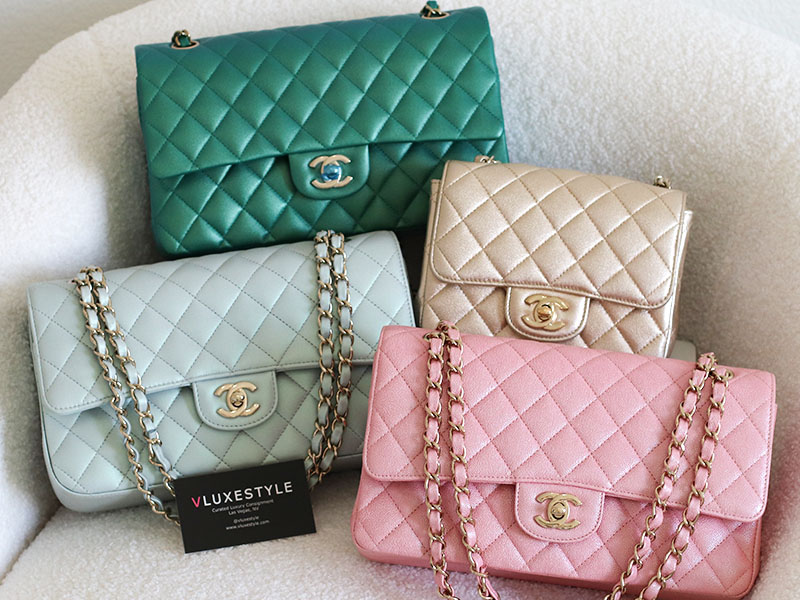 CHANEL Classic Flap Iridescent Handbags