While few of Chanel's new handbags become instant classics, that's precisely what happened when the Boy bag made its debut more than a decade ago. Today, it remains one of the brand's most iconic and in-demand styles.
Introduced for Fall/Winter 2011, the Chanel Boy bag was designed by then-creative director Karl Lagerfeld. Named for founder Coco Chanel's first love, polo player Arthur "Boy" Capel, its younger, fresher and trendier image complemented the brand's revamp. As Lagerfeld explained, "Gabrielle Chanel used men's underwear to make dresses—she had this boyish attitude. In fact, [this] is the very spirit of Chanel. She got it from Boy Capel, the great love of her life—which explains why the bag is called the Boy Chanel."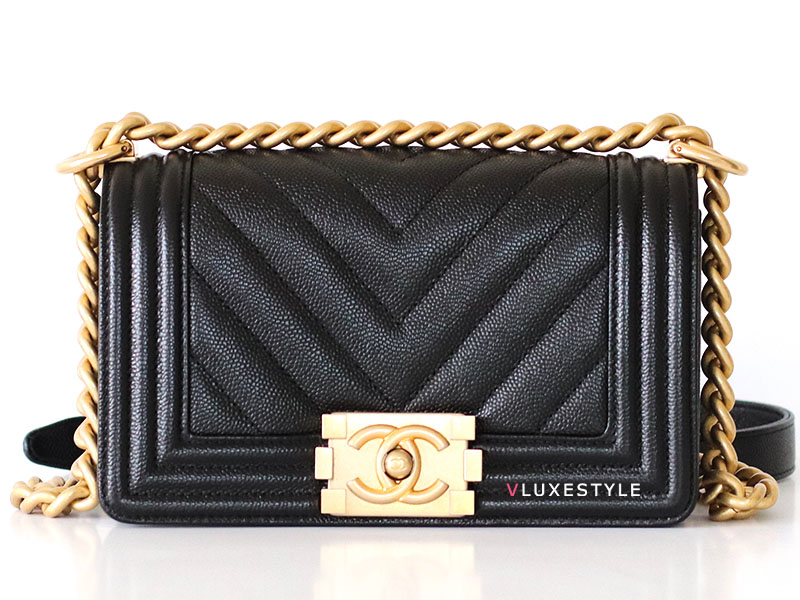 CHANEL Boy Small Black Chevron Caviar Brushed Gold Hardware
Redolent of Chanel's iconic 2.55 and Classic flap bags, the Boy bag has established its own identity through several key differences in design. Streamlined with a boxy, rectangular silhouette, its utilitarian sensibility stems from cartridge bags designed for hunting. With an external flap and interior compartment, the inside slip pocket adds a functional finishing touch. Since its flap covers the entire front of the bag, it's roomier and more lightweight than traditional flap styles.
Further updates include a gourmette chain strap, which incorporates larger, chunkier links for an edgy vibe. Finishes include several variations of gold (shiny, brushed, and antique, as well as champagne gold), shiny silver, ruthenium, black, and even rainbow-hued iterations.
Rather than a classic chain strap intertwined with braided leather, the Boy bag also features a leather shoulder strap—wear it long or short (doubled up) as either a shoulder bag or crossbody style. While maintaining Chanel's signature quilting, chevron patterns and interlocking double C closures further revitalize its aesthetic. Select styles also feature "reverso" quilting, combining an unquilted body with a quilted frame.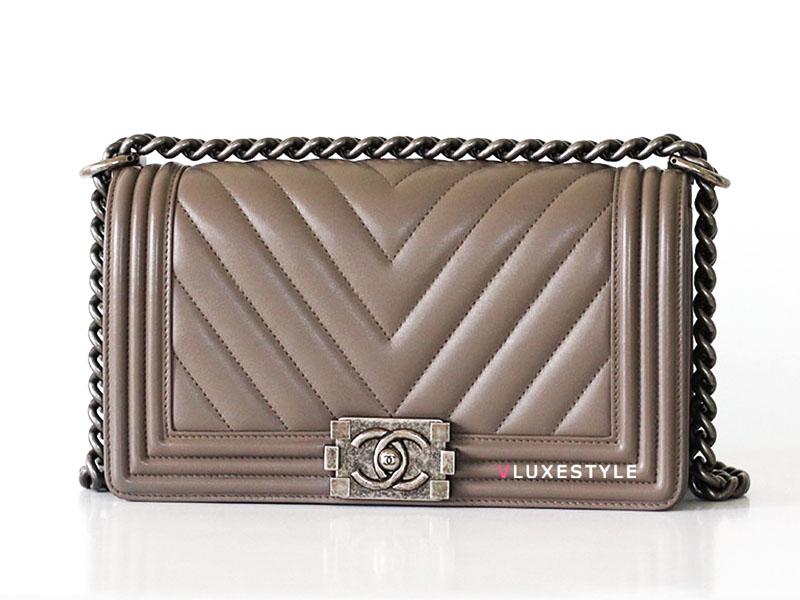 CHANEL Boy Old Medium Taupe Chevron Calfskin Ruthenium Hardware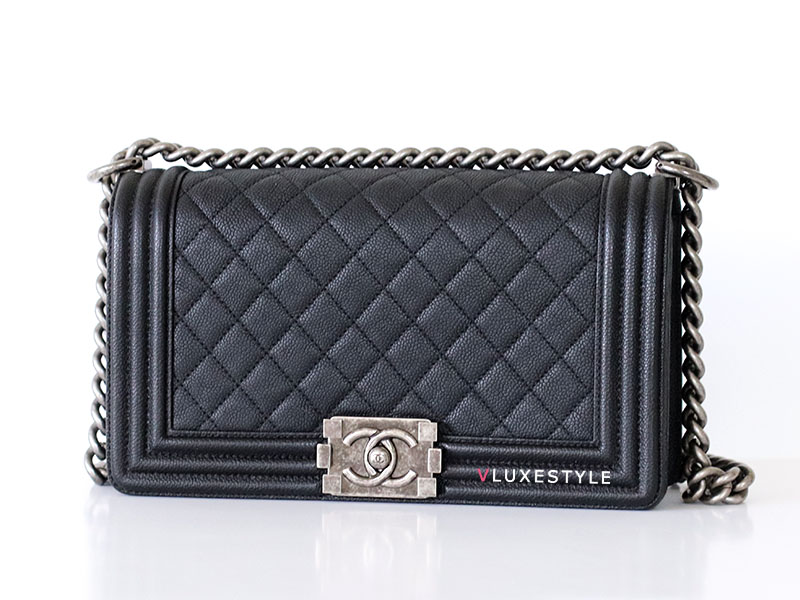 CHANEL Boy Old Medium 16A Black Quilted Matte Caviar Ruthenium Hardware
Overall, the Chanel Boy bag conveys a more relaxed sensibility than its formal flap bag predecessors; at the same time, it's considered easier to style. While the Boy bag stems from a fashion-driven collection, its popularity has endured well beyond the ephemeral life cycle of trends. Not surprisingly, Chanel has incorporated the look into its permanent collection. Blending an edgy aesthetic with functionality and versatility, it appeals to a wide variety of Chanel collectors.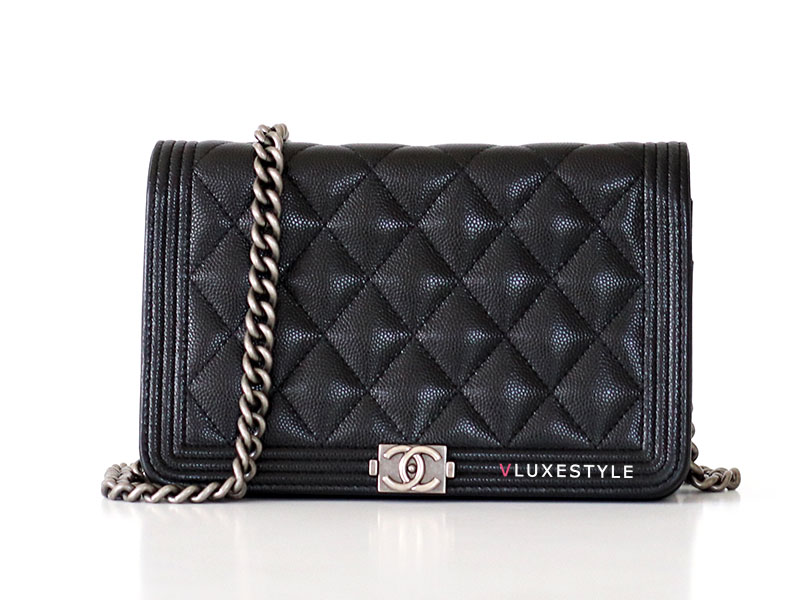 CHANEL Boy Wallet on Chain Black Quilted Caviar Ruthenium Hardware
While Chanel also offers wallet on chain, clutch, and shopping tote iterations of its Boy bag, the shoulder bag remains its most popular style. Beyond traditional calfskin, the Boy bag comes in patent calfskin and woven calfskin, along with caviar leather, goatskin, lambskin, alligator and python. Beaded and tweed styles round out the assortment.

Sizes range from mini (reissued seasonally), small, old medium, new medium and to the now discontinued large. In addition, its tiny chain wallet style can fit credit cards, cash, lipstick, and keys. Ideal for evening or a minimalist day bag, the small Boy bag holds a smartphone, cardholder and keys, plus a compact and lipstick. Often carried as a crossbody, the medium Boy bag offers sufficient room for a smartphone, hand lotion, a wallet, a small notebook, perfume, and lipstick. Large silhouettes accommodate everything from passport holders and packable flat shoes (for travel), devices such as iPads or Kindles, along with sunglasses, cosmetics, and hairbrushes.
CHANEL Boy Old Medium 20B Gray Quilted Caviar Shiny Gold Hardware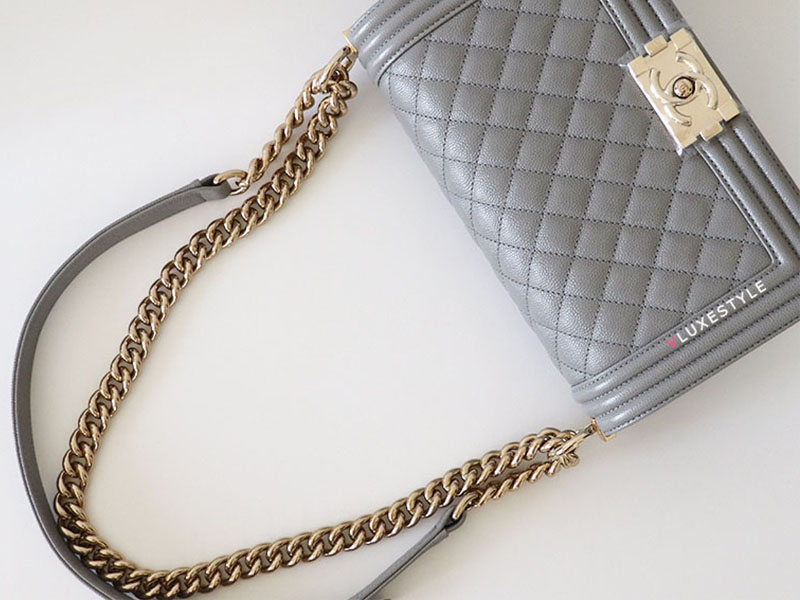 Prices for the Chanel Boy bag depend on a number of factors, including materials and size. For a Boy wallet on a chain, prices start at $3425. For quilted calfskin/lambskin leather, prices start at $6100 for small shoulder bags, $6600 for old medium, and $7000 for the large versions. In 2023, Chanel raised its Boy bags prices by approximately 13 percent; since 2020, the cost has surged by up to 20-30 percent. Nevertheless, price increases only make Chanel's pre-loved bags even more coveted; since a number of styles are produced on a limited basis, their value only increases over time. Like fine art, the Chanel Boy bag stands out as a worthwhile investment. Explore our curated collection of Chanel.